Invisible, but Worth Seeing
The Invisible Man is a worthy successor to 1933 film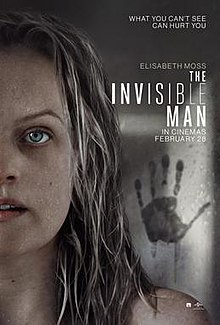 When someone says "Iconic pieces of horror" 1933's Invisible Man is not often what comes to mind. While this movie's practical effects were strong at its time, there isn't a massive reason to watch it now as it is very much a film of its era. With that in mind, when it was announced that there was a remake in the wings it was a shock, especially considering the movie was not expected to be a comedy. Now that the film is out, it is a fully competent movie that is enjoyable to watch.
2020's The Invisible Man was directed by Leigh Whannell and produced by Blumhouse productions. Leigh Whannell had previously directed 2018's Upgrade along with Insidious: Chapter 3. While Upgrade received high reviews and made 16 million at the box office, it's not a massively well known film. That being said, both Upgrade and The Invisible Man are both films that feature a theme revolving around "The evil's of technology."
The Invisible Man stars Elisabeth Moss as the film's protagonist, and Oliver Jackson-Cohen as the titular villain. The film centers around a woman named Cecilia Kass who has just left her abusive husband. Upon leaving, her husband seemingly kills himself. Things get stranger when he seems to be terrorizing her from beyond the grave while being completely see-through.
The film is plenty entertaining, and despite its premise still manages to be pretty suspenseful. While the movie focuses on an abusive relationship, the movie doesn't try to make the audience uncomfortable, which is a problem plenty of films fall into. The effects look fine, and all of the tension and drama feels genuine. Where this film shines is its acting. Elisabeth Moss delivers an entirely believable performance as women recovering from abuse, while Oliver Jackson-Cohen plays an unnerving and sadistic villain.
The Invisible Man was released on February 28 and grossed 122.7 million at the box office. The movie is currently streaming on YouTube, Google Play, and Amazon prime. With overall positive reviews and a 7.3/10 on IMDb, the Invisible Man is a worthy successor to it's 1933 counterpart.
About the Contributor
Riley Baker, Staff Writer
Riley is on his second year as a staff member of the Cardinal Columns. He enjoys writing and hopes to pursue a career as an author. He also wasn't quite...