Blast from the Past
All About Returning Trends
Corduroy? Denim? Entire drawers of multi-colored scrunchies? Back in the day, these styles were all the rage thanks to pop-culture icons like Molly Ringwald and Michael Jackson. These trends were thought dead long ago, but bright colors, flashy patterns, and other nostalgic items like vinyl records are most definitely returning.
According to an interview with The Atlantic, Emma Mclendon, author of "Denim: Fashion's Frontier" and a curator at the Museum at the Fashion Museum of Technology in New York, feels "fashion, however, is both a cycle and a pendulum. Trends come, go, and later come around again." This can be seen as more and more as stores have started to take their own spin on classic styles, such as flared pants, mom jeans, and many of the iconic 60s-90s patterns.
Trends are made popular by movies, television shows, musicians and celebrities. In the '90s, shows such as 90210 and Friends heavily influenced the style of the decade. Jennifer Aniston always wore the latest in denim, and her iconic Friend's character Rachel Green was always up to date on the latest fashions. She was also known for her incredibly trendy hairstyles and set the style for the decade with her "Rachel" haircut.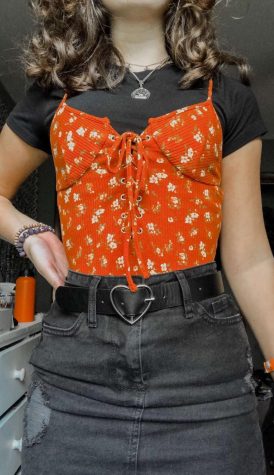 The lead singer of '90s Seattle Grunge band Nirvana, Kurt Cobain, was another person who largely influenced the fashion world during this time. From his iconic clout glasses to his oversized shirts, fans were eager to follow his style.
As these trends pop back up around the globe, teens have also registered their revival. In an online survey distributed by the Cardinal Columns, 71.9% of Fond du Lac High School said they enjoy the return of the '60s-'90s culture and many have participated in the resurgence of many of these older trends. For example, mom jeans, layered shirts and Doc Martens have all made significant comebacks over the past decade or so.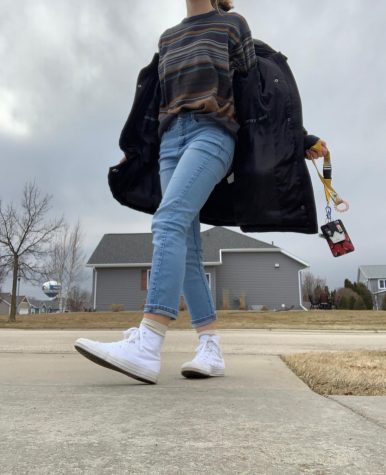 High-waisted denim were the most appreciated returning trend, with 70.2% in their favor. This style of jeans sits higher on the torso and reduces the size of your figure, which is probably why they are considerably more popular than the low-rise jeans of the 2000s. Vintage hair trends have also gained an appreciation, with a scrunchie cult following of 65.8% of Fond du Lac High School students.
Many students have made their own observations about returning styles as well.
"Jeans, mom jeans, I love mom jeans. I'm always wearing my hightops. Sweaters, big sweaters, I really like collars too, turtlenecks, and then scrunchies, and hair barrettes." senior Maisey Wilhelms said.
Wilhelms practically lives and breathes in '70s-'80s nostalgia."I just wasn't very happy with what I'd been wearing, and my closet just wasn't me. So, I got some new clothes and just started expanding off of those clothes, and now I have a style that I really like. It embodies me," she said.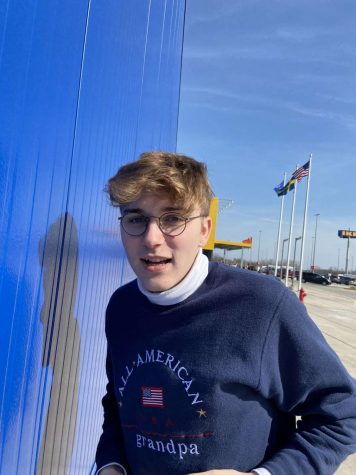 From her classic hightops to her oversized sweaters, Maisey's got the vintage style down. "My initial inspiration is from a Tik-Tokker actually, I really liked her style. Then I went thrifting with one of my friends, and that's where I get all my clothes from. St. Vincent's, Goodwill, Salvation Army and Second Impressions are all my favorite stores, so I got inspiration from there."
But fashion isn't the only thing making a comeback. The music world is benefitting as well from this revival stage. Seventies and eighties music is also a huge part of the newer trends, and with her new style, Maisey has also gained an appreciation for many older groups. "Queen is my favorite. I also love Elton John, Abba, Fleetwood Mac, The Go-Go's, The Psychedelic Furs, The Cars. Those are my favorites."
Maisey started listening to these groups not only because of her new clothes, but also because they were connected to her childhood. "My dad really likes it and my mom really likes it, and I grew up with them playing that sort of stuff, so it's always been in the back of my mind."
To expand on this, Queen, Elton John and Judy Garland, among others, have all had successful biopics telling the story of their incredible music. In 2019, Rami Malek won "Best Actor" at that year's Oscars for his incredible portrayal as Freddie Mercury, the lead singer of Queen, in the movie "Bohemian Rhapsody".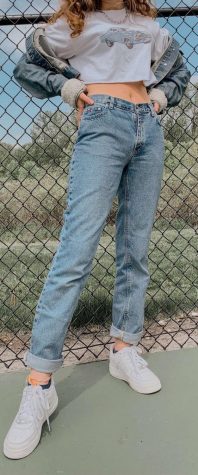 After the huge success of their film, Queen announced a tour, and along with many other older bands, are bringing back their beloved music. The Who, for instance, is a British rock group from the '60s, and they have toured the United States this year. Along with this, many tribute bands have had success as well, bringing back the music scene of the '60s-'90s to anyone wanting to listen.
Vinyl records are also slowly making a comeback, with 13.2% of students having a full on collection and 14% having a few records. Maisey has had her own experiences with vintage music-playing methods. "I also just got a walkman so I can listen to them on cassettes now, which is amazing." Urban Outfitters has started selling cassette players as well as their record players, so the return of the '90s cassette is a strong possibility.
This is where these trends have already taken us, but how retro is fashion willing to go? "I wish bell bottoms were more popular, and just like mixing patterns more, I think that looks really cool, but it's so far out to do that. Like a crazy flower or crazy plaid, something like that," Wilhelms said.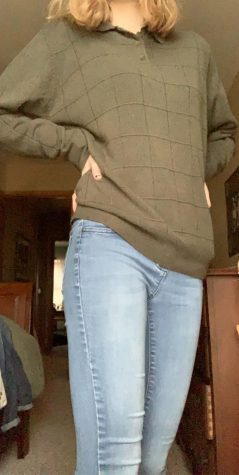 Already, current runways have seen trends such as flashy neon patterns, disco collars, crochet, and "hot pants" spring back into action for the upcoming season.
Seeing as these trends are a little "far out" themselves, maybe seeing more crazy pattern pairings and bell bottoms in the future isn't such a wild idea after all.