Spirit Week is Here
Finish up April with online activities and compete for gift-certificate prizes!
While we might be stuck at home, we have something to get excited about: Spirit Week! Mrs. Hawkins, Mr. Smith and the spirit committee are giving students a way to connect with the school and each other. Hawkins, an art teacher at Fondy High School, came up with the Spirit Week days and ideas on how to do them.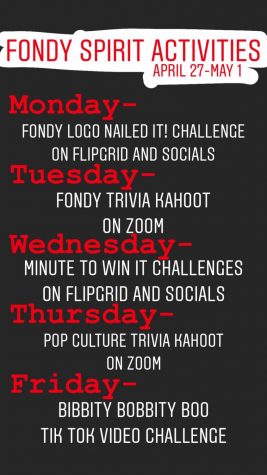 For Monday, students can show off their virtual school uniform and participate in a Fondy Logo Nailed It! (a challenge on Flipgrid and social media). On Tuesday, students can dress up in their favorite tie-dye and play a Fondy Trivia Kahoot on Zoom.
Wednesday, students can gear up for a safari and play various Minute To Win It challenges on Flipgrid and social media. On Thursday, students can dress up as their favorite superhero or villain and participate in a pop culture trivia Kahoot on Zoom.
For Friday, students can get festive in their Fondy Pride apparel and participate in the Bibbity Bobbity Boo Tik Tok Challenge. "I love a good Fondy Pride Friday! I also think it'll be interesting to see what people come up with for virtual learning uniform," said Hawkins.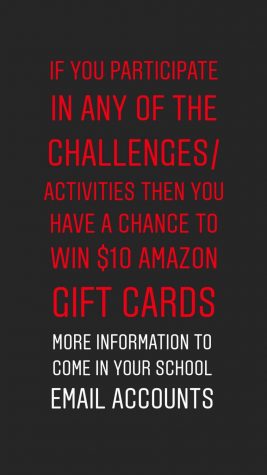 While the week will be compelling in itself, the teachers have added an incentive to get more students to participate. Students can win prizes when they share their spirit week fashion with social media or with [email protected] The best-dressed student can win a $10 Amazon gift card.
"I remember all the great times I had in high school when we had spirit weeks, and I would hate to deny the Fondy students that experience just because we aren't physically at school," Hawkins said. Everything has been changing over these past few months, but thanks to Hawkins we're able to hang on to some of our favorite school traditions.
"I hope that this will make students feel closer to each other, not so lonely, part of a community," Hawkins said. To help the school through this difficult time, Hawkins has helped to create something exciting for Fondy High students to look forward to. While online classes may be enticing to some, for others it has been boosting levels of stress and anxiety. An enjoyable spirit week is exactly what students need to lighten the mood.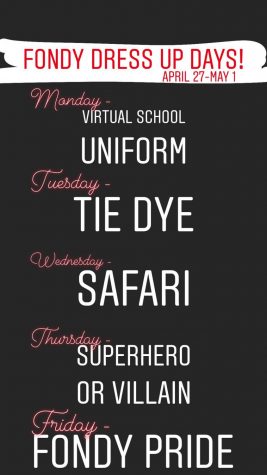 As most of us know, online work is difficult. Hawkins has had some challenges putting on spirit week. "The biggest challenge has been creating everything (videos, online stuff) beforehand. Usually, we can just wait for the day of to give instructions, but now everything needs to be set before it starts," Hawkins said. "I am nervous we won't be able to be flexible if we need to change something."
"The most fun has been bringing in students for our Fondy High TikTok (@fondyspirit). It has been so amazing seeing all the work these students have put into their videos. I love it!" Hawkins said.
Hawkins is helping our school create memories in these strange times. Hopefully, these memories will continue before school is done. So, will there be another spirit week? "Heck yeah, if it goes well I would love to plan something else," Hawkins said. "I'm not 'set' on spirit weeks either\; we could do other things digitally if there are enough students participating. I don't know what that looks like yet, but the sky is the limit!"