What's In My Bag? Swimming Edition
What senior swimmer Megan Roehrig brings on meet day.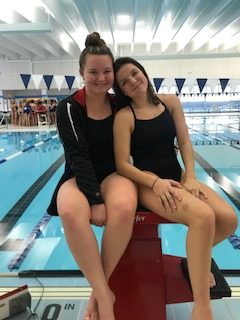 They say what a woman carries in her purse reveals a lot about her. Everything from gum to lip gloss to old crumpled receipts are a piece of the complicated puzzle. Each item has a story behind it or a reason it needs to be with her at all times. But does the same apply to athletes?
Senior Megan Roehrig has been swimming for ten years, so she's gotten her meet day packing list down to a science. Everything gets carefully folded into her lime green speedo brand backpack. Roehrig says that most swimmers carry their essentials in this type of bag rather than a large duffel like many athletes. The backpack also functions as her bag for everyday practice, so it gets cleaned out and repacked every night with a new suit for the next day.
Well actually, it's more than one suit. Roehrig has three black Speedo brand suits that she brings along on meet day. "Suits can rip at random times so it's always good to have a backup," Roehrig said. These suits are not actually provided by the school for their competitions. Athletes on the swim team are given a selection of swimsuits by their coaches that they must order and pay for themselves. However, the school does provide a warm up jacket to wear.
She also carries a smaller bag that holds her many swim caps, goggles and hair ties. She has multiple of each in case of a rip or break, which happens frequently in a fast paced competition. The hair ties are used to pull her hair back to tuck under a swim cap. While others prefer to simply stuff all their hair under under the cap without putting it up, Roehrig likes to put it in a low bun that keeps her goggles from slipping off.
Of course that hair gets tangled during the race. "A lot of people think that swim caps keep your hair dry but they really don't," Roehrig said. "They're only used to reduce drag so our hair gets super snarly underneath them." For this reason her bag also contains a hair brush and shampoo to shower afterwards. She also brings along other self care items like lotion and band aids.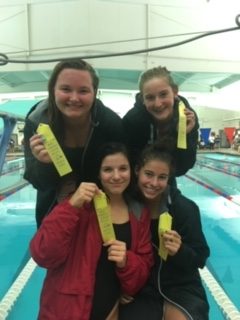 Roehrig also has to pack items that help her to stay healthy, like her inhaler for her exercise-induced asthma. She also has undiagnosed issues with her shoulders that have likely come from the strain of racing the 50 and 100 meter freestyle and 100 meter backstroke multiple times a week. She keeps icy hot and a muscle roller in her bag that helps keep her shoulders loose and pain level down after a race.
Of course she also has to bring her mental game to the meets. During the school day she tries not to focus on the upcoming competition, but on the bus she gets into her zone by listening to music. The rest of her team helps her to get hyped up by doing chants and cheers. She hopes they can carry that energy through the rest of the season which will culminate at the state meet on November 16th.