Steinbarth Takes The Next Step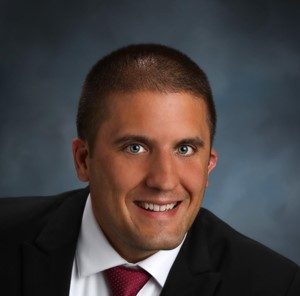 Principal Matt Steinbarth will be leaving Fond du Lac High School to take on the district's new Chief of Schools and Educational Accountability position following this school year, but finding new ways to serve Fond du Lac students continues a trend he has been following his entire adult life.
"Education is about change," he said. "There's things constantly changing in education… I enjoy the challenge."
"The chief of schools position was created to really manage the day-to-day operations of the schools and to really work to support the principals in their day to day work," Superintendent Jeffery Fleig said. He chose Steinbarth for the position because he's worked at all three levels of schooling in the district, and because he has such good relationships with his fellow principals and teachers. "People always talk about how well he treats them, how well he listens, and how well he follows up and supports them," he said.
Raised in Fond du Lac, Steinbarth has been employed in a variety of jobs for the Fond du Lac school district, taking his first when he was still a student himself. At fourteen, he took a job with the Recreation Department and was later employed to handle a youth group called Woody's, which operated out of Woodworth Middle School.
As an adult, he received his degree in education from UW Oshkosh, and later on received his first masters at Marian College. This was followed by an administrator license and a curriculum instruction license, and Mr. Steinbarth capped off the list with a superintendent license from Concordia University.
"I got my first job [where I was employed by the district as an adult], actually at Parkside where I'd been a student, and my principal, as a student, was the first principal that hired me for a job," Mr. Steinbarth said, "so that was kind of cool for me." From there, he moved on to Woodworth. Over the next few years, he taught at the middle school level, became Woodworth's assistant principal, and was later asked to take over as principal at Lakeshore for three years. From there, he moved to Fondy High in order to fill the position of principal.
Mr. Steinbarth expressed excitement about his new position. "I enjoy the challenge." He said. "My desire to make this the best district it can be is going to drive me to make sure that I'm doing what's needed."
His successor as principal of Fondy High will be David Michalkiewicz. "The nice thing with Mr. Michalkiewicz is he's been here longer than I have. As the AD, he's been here, I think this is his seventh year, maybe now sixth or seventh year." He added that, "He knows I will always be there if he has a question, if something comes up he doesn't want to deal with, then I'll be a support network for him, which is interesting, because I didn't have that when I came into the role." His predecessor was not in the district, so he learned the job on his own. Mr. Steinbarth also expressed gratitude for the support he received from Assistant Principal McDonald. "I hope I can do that same type of a mentor with Mr. Michalkiewicz now, moving forward."
When deciding to accept the Chief of Schools and Educational Accountability position, Steinbarth drew on his history with the district. "The biggest reason I'm taking it is because I have a lot of pride in Fond du Lac," he said. "I want to see the district become the best district it can become. I will do pretty much anything for this district, which is why I've taken some of the jobs I have… having grown up here, I just want to see it [be] the best possible place for the students and the staff, and the community as well."
Steinbarth still has a few months left as Principal of Fondy High, though, and he's looking forward to the great things the school will do in the future. "I hope we finish off the school year on a really high note, a positive, for students. And we'll see where we go from there."