Opioid Overdoses Increase Due to Pandemic
Overdose statistics skyrocketing, how can we help?
Just in 2020, 135 people have been run by an ambulance due to a suspected overdose from an opioid in Fond du Lac County, according to the Wisconsin Department of Health Services. Compared to past years, this is a major increase. Fond du Lac Fire/Rescue estimated that the increase is most likely due to the COVID-19 pandemic. It is a very lonely and hard time for anyone, but especially those who are struggling with substance abuse.
It's been almost a year of having minimal contact with people like friends and family, which can be especially difficult for those struggling with substance abuse. A lot of the time friends and family can be really helpful tools, but now that there's lack of physical support, it shows in the data that it's really taking a toll on our community.
There's things we can do to support friends, family, and our other community members who have substance abuse issues. There's a program in Fond du Lac County called the Opioid Initiative, which specifically addresses and tries to prevent opioid/heroin abuse. It is run by the Comprehensive Service Integration (CSI). It uses the Four Pillar Approach, which is based on four principles.
The first pillar is "prevention", which tries to intervene with harmful uses of prescriptions and other drugs before it even happens. The focus is decreasing the risk factors that an individual might have and strengthen the positive factors that can help protect them from drug use. This is where every day people in the community can help. Creating a supportive environment can help prevent people from turning to substances.
The second pillar is "harm reduction." This works not necessarily towards completely stopping the substance abuse, but trying to reduce as much harm it's causing as possible. There's different strategies, like safer or managed use. Although this isn't directly "fixing" the problem, it's an important part of managing opioid or heroin addiction in the community.
The third pillar is "treatment". This focuses on the variations of support groups or interventions to encourage those with substance abuse issues to make healthy choices and be a part of the community. This helps by decreasing deaths from substances and helping people socially, because it can be hard getting back with friends or people in the community after struggling with substance abuse.
The last pillar is "law enforcement". This just helps protect the community if there's disorder or general unrest due to these circumstances, but it can't be the only solution used with substance abuse. It's really important to have an approach using all four pillars, that's proven to be the most effective according to the CSI.
Overall, even though our community may be struggling right now, there's always ways we can support each other. A community grows stronger when it overcomes difficult times together, and we just have to work together to decrease those numbers. Those struggling with opioid use are still people, they're family members or friends to many who just need a little extra help.
About the Contributor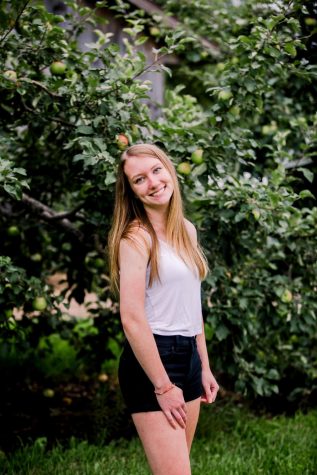 Madison Morales, Reporter
Madison is a senior, and it's her first year being a journalist. She usually works or hangs out with friends in her free time, but also enjoys stuff like...