How do Celebrity Meals Perform?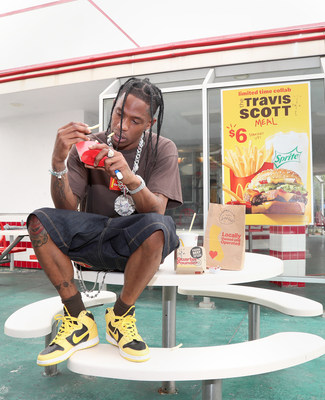 Whether you've seen them on social media or heard of them on a commercial, I'm sure you've heard of the Charli D'amelio drink at Dunkin' Donuts and the Travis Scott meal at McDonald's.
The Travis Scott Meal
Travis Scott is a singer/rapper/songwriter. He has done collaborations with other companies such as Nike, Fortnite, Reese's Puffs and Helmut Lang. The Travis Scott Meal was available for limited time, and was advertised to be $6. The meal includes a beef Quarter Pounder with bacon, cheese, lettuce, a medium fry and barbeque sauce on the side to dip the french fries in as well as a medium sprite to wash it all down. 
The advertising for the price of the meal was a little confusing. When I first started hearing advertisements about the meal, I heard that it was only $6, as you can see on the ad in the picture above. But after a week of the meal being released I started hearing ads on Spotify that the meal was only $6 if you paid for it on the app. I don't know if that was always how much it was or if it changed due to limited supplies, but when I paid for the meal it was not $6. 
Honestly, the meal is not that special. The burger is pretty much what you would expect, which is a bacon cheeseburger from McDonald's (which isn't that great to begin with). I will say that french fries dipped in barbeque sauce was very good. I've never really had that flavor combination before, so it was new and interesting. And for the drink, you can never go wrong with a Sprite.
Would I get the meal again?
No. The marketing for the price was confusing, and the meal itself wasn't anything that special. Honestly, I mostly got this because of the name, as I'm sure most people did. 
If the Travis Scott meal doesn't sound like your thing, try out some of the meals our teachers and students have created. 
The Emma Newell Meal: A 10 piece chicken nuggets with a small fry, sweet and sour sauce and a small Oreo McFlurry 
The Jadah Romo Meal: A #9 (Two cheeseburgers) add lettuce and big mac sauce, a large fry with sweet and sour sauce and a large Tropic Berry Sprite
The Quentin Meilhon Meal: Crispy Chicken Sandwich with mayo and a medium orange juice
The Liz Ruedinger Meal: Two Sausage Burritos with no sauce, a hashbrown and a medium orange juice
The Allison Zeitler Meal: A Bacon, Egg and Cheese Biscuit, a hashbrown and a medium coffee with cream 
The Sue Heitzman Meal: A Filet-O-Fish meal, large fries, a large unsweetened tea and an extra tartar sauce to dip the french fries in

The Charli
Charli D'Amelio has quickly risen to fame in this past year off of the social media app TikTok, recently hitting 91 Million followers on the platform. D'Amelio has done collaborations with other companies such as Morphe, TikTok and Hollister. "The Charli" is the name of the new Charli D'Amelio drink at Dunkin' Donuts. This drink is her go-to order everytime she goes to Dunkin' Donuts. It is a Dunkin Cold Brew with whole milk and three pumps of Caramel Swirl. 
I love Dunkin', but I do not like cold brew. I do like Charli D'Amelio though, so despite my aversion to cold brew, I decided I would give her go-to drink a try. Personally, It was not my thing. I like coffee normally, but the coffee was a little bit strong for me, and I could not get the taste of cold brew out of my mouth afterwards, 
Would I get it again?
Absolutely not. But that's only because I don't like cold brew. If cold brew is your thing, you would probably like this drink, but this drink just didn't do it for me. 
If "The Charli" doesn't sound like your cup of coffee, check out some of our teacher's and student's go-to drinks from Dunkin' Donuts. 
 "The Cassie" Stephany Drink: A medium iced coffee with three pumps of coconut syrup and one pump of caramel swirl syrup
"The Emily" Warntjes Drink: Iced Caramel Latte with almond milk
"The Hailey" Valle Drink: Coco Mocha Latte with two extra pumps of mocha and light ice
"The Kennedy" Slater Drink: Salted Caramel Hot Chocolate
"The Josh" Heyer Drink: XL Dark Roast coffee, black
"The Kim" Braatz Drink: Black coffee with half and half and sugar free hazelnut syrup